Ramp up the romance this Valentine's Day with one – or more – of our favorite Valentine's Day

gifts!
Diamonds Studs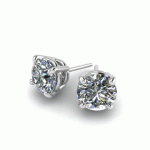 Just remember, when in doubt, you cannot go wrong with diamonds! Diamond studs are a classic gift that any woman would be happy to add to her wardrobe. Dress up a pair of jeans and a t-shirt or paint the town red. Their sparkle is undeniable and they go with every outfit! Does she already have a pair? Upgrade hers to a larger pair, give her earring jackets to complement them, or choose a matching diamond pendant.
Somewhere Jewelry
Have you heard of "Somewhere" Jewelry? These pieces remember a special place in a couple's journey. Where you met, had your first kiss, where he popped "the question", or any place you'd like to commemorate.
Select any address in the world and mark the moment and place you'll never forget. Pieces can be ordered in Sterling or 14k gold, pricing for silver starts at $149. Choose from pendants, bracelets, a chain or cuff and even cuff links for him. The front has a "map" and the back has the coordinates of the location you choose. Lead time on Somewhere Jewelry is 3-4 weeks.
Mixables Stacking Rings
Why choose only one? Layer up small rings that add dimension and color to your daily look and stack your love high! Give her several rings in white, yellow, and rose gold. Versatile and elegant stackable rings crafted in your favorite metal in varying styles make for an on-trend gift. You can also choose just one ring that matches her bridal set to show her how your love only continues to grow with each Valentine's Day you spend together.
Beautiful Bangles
There's a special kind of beauty to be found in simplicity. These stunning Bangle Bracelets are the perfect way are to show her you're wearing your heart on your sleeve – and she can wear hers on her wrist!
And the best gift of all? When you spend just $99 or more, we'll give you flowers and candy too! Stunning jewelry gifts plus all your other Valentine's essentials all in one place? Who could say no? Mark Peter's is your one-stop Valentine's Day shop.