We've put together a group of FAQs to help you solve your jewelry dilemmas. Can't find an answer here? Feel free to contact us or stop in our store.
---
What is the difference between precious and semi-precious gemstones?
The term "semi-precious" is somewhat misleading as it suggests that some gemstones have inferior value. Years ago, most people considered Ruby, Emerald, and Sapphire as the "precious" gemstones and all others as "semi-precious." In truth, all-natural colored gemstones are rare and precious and their prices are determined by the availability and quality of the gemstone.
How do I clean and care for jewelry?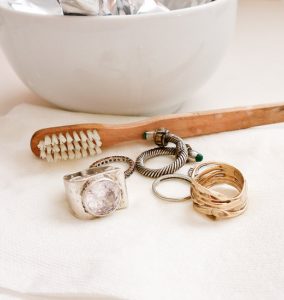 The first rule for caring for gemstone jewelry is to treat it as you would any of your valuable possessions. Avoid wearing your gemstone jewelry when involved in activities that could cause damage such as yard work, active sports and the like. You wouldn't wear your finest silk dress while gardening; likewise, there are inappropriate times to wear fine jewelry. As for cleaning, keep it simple.
The best way to clean your jewelry is to use a mild solution of soap and water. After letting your jewelry soak, gently brush your jewelry with a soft brush. Rinse the jewelry thoroughly, and lay it on a soft cloth to dry. It is best to avoid cleaning jewelry in ultrasonic cleaners, harsh chemicals or abrasives.
Pearls, especially, should be protected from contact with perfumes, cosmetics, and hairsprays. Store your jewelry in separate sections of your jewelry box or in a fabric pouch. For the best protection, bring your jewelry to your jeweler for regular inspection and thorough cleaning.
What do I do if I don't know my ring size or the ring size of the person to which I would like to give a ring?
There are several options. First, you may give what we call a stock ring size, which is usually a 6.5 for ladies and a 10 for men, and then we can size the ring after the presentation. In some cases, we may want to have the ring made in the proper size. Second, there are several less accurate means on the web available simply by searching "ring sizers". Again, these are not entirely accurate but may get close.
Do you clean jewelry?
We are happy to clean and check your jewelry at any time. At no charge, we will ultrasonic clean (if appropriate) your piece of jewelry then steam clean it (again, if appropriate). After your piece is clean and free of debris we will inspect your piece for stone security.
How long does it take to have my jewelry repaired?
We keep our goldsmith very busy. However, getting your jewelry back to you in a timely manner is important to us. We promise repairs will be done within one week generally. Seasonal rushes may apply. However, we have been known to get pieces repaired much faster.
Do you buy jewelry?
There are times when jewelry is broken beyond repair, styles have changed or the piece itself is no longer wanted. For these pieces, we will be happy to assay the piece and make you a cash offer on the value of the precious metal.
Do you take diamond trade-ins?
The answer is a qualified yes. It is best you bring in the diamond to find out what options might be available.
What is your return policy?
Your complete satisfaction is our number one concern. Everything we manufacture or sell is guaranteed to please you and the recipient. If you are not completely satisfied with your selection, simply return it to us within 10 days for a refund or 30 days for an exchange, the choice is yours.
Do you have wish lists?
Absolutely. Anyone wishing to fill out a wish list to help there special someone is always welcome. We will then keep your wishes for that special occasion.
Do you have financing options?
We do. Through Wells Fargo, we are able to offer special financing for one year with approved credit. The application process is very short and very quick.  Please note the payment plan does require regular monthly payments.
What is my birthstone?
January – Garnet

February – Amethyst

March – Aquamarine

April – Diamond

May – Emerald

June – Pearl, Alexandrite, Moonstone

July – Ruby

August – Peridot

September – Sapphire

October – Opal, Pink Tourmaline

November – Citrine, Topaz

December – Tanzanite, Zircon, Turquoise
I'm having an anniversary, what is the traditional gift for the (fill in the number) anniversary?
This is a tricky one. For the most part, we advise you to go with whatever you think your spouse would like regardless of what the list tells you. However, should you be interested the list is as follows:
Anniversary Gem Guide
1st – Gold Jewelry

2nd – Garnet

3rd – Pearls

4th – Blue Topaz

5th – Sapphire

6th – Amethyst

7th – Onyx

8th – Tourmaline
9th – Lapis

10th – Diamonds

11th – Turquoise

12th – Jade

13th – Citrine

14th – Opal

15th – Ruby

20th – Peridot
25th – Silver Jubilee

30th – Pearl Jubilee

35th – Emerald

40th – Ruby

45th – Sapphire

50th – Golden Jubilee

55th – Alexandrite

60th – Diamond Jubilee
Did we answer your question? No? Feel free to call or stop in anytime.
---
Follow us on Facebook, Instagram, YouTube, and Pinterest. Also, feel free to Contact us anytime to set up an appointment.