Let's Create Your Perfect Design!
Mark Peter's Diamond Designs is well-known as design and re-design specialists and we're proud to offer these services. We can restyle an existing piece as well as create a completely custom design. We can work with the ideas you have or come up with ideas for you while working within your budget.
A custom ring piece may be similar to something you saw online, but with a simpler design for a diminutive finger, or a pendant that follows a favorite neckline style or calls to mind a memory of something…or someone.
Custom design allows us to re-work diamonds or any gemstones into an updated style, another piece of jewelry or even re-create your grandmother's lost Art Deco earrings. Regardless of the reason, custom jewelry is the ultimate expression of you!
When it comes to metals, we work in gold, silver, platinum, and palladium. The process begins with a simple interview to discover your wants and desires. Throughout the process, you have the opportunity to comment and make changes or adjustments. Come in today and begin your adventure in custom design.

Custom Engagement Rings & Wedding Bands
Specializing in design and re-design. We begin the process with an interview and continue the conversation with the client as the design is developed. We encourage comments and suggestions during the creative process. It's our privilege to give the customer the design they desire. Our expert craftsmen use only the highest quality materials to provide you with your perfect ring.
Learn More about creating a custom engagement ring. We have some tips, examples of previous customer rings we've desgined, and ways to make your custom design affordable.
Why Custom Design?
Your engagement ring, is a timeless expression of your love and a custom-designed engagement ring is truly unique…there's no other ring like it in the world!  We build from your ideas and dreams to create a ring symbolizing your loving bonds and celebrations. We can also incorporate or change your previously owned ring, and in this manner refurbish and update a ring with both historical and symbolic importance to you.
---
Follow us on Facebook, Instagram, YouTube, and Pinterest. Also, feel free to Contact us anytime to set up an appointment.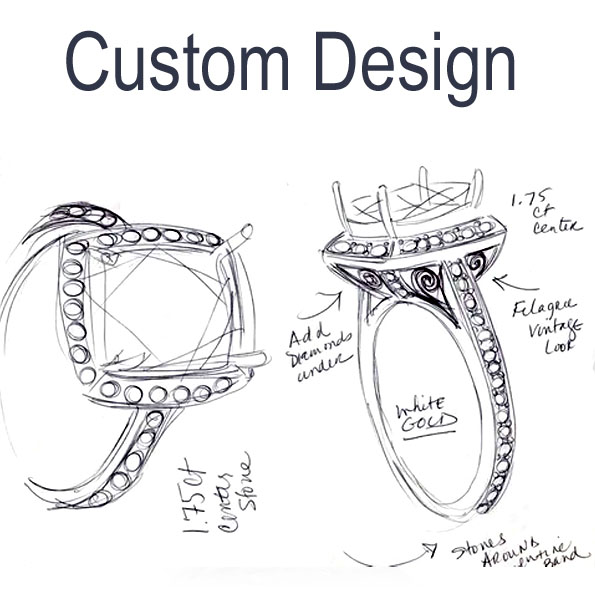 Interested in Custom Design?