WHAT YOU NEED:
Soft bristle toothbrush, Regular dish soap, Windex/Glass cleaner, Warm water, Room temperature water, Towel/Paper towel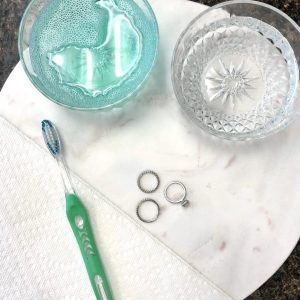 STEP ONE
Combine 1 part dish soap, 1 part glass cleaner, and 2 parts warm water in a small bowl. No need for exact measurements.
STEP TWO
Place jewelry in the cleaning solution. Let it soak a few minutes, or hours, depending on the need.
STEP THREE
Once jewelry has soaked, take it out and gently scrub with a soft-bristle toothbrush. Make sure to scrub all the crevices where dirt and bacteria build-up. PLEASE do not use this toothbrush to brush your teeth. ? It is now your jewelry cleaning brush.
STEP FOUR
Place jewelry in a cup or small bowl of room temperature water, or run it under the faucet. Be careful not to drop it in the sink, we don't want it to fall down the drain! Rinse off the cleaning solution.
STEP FIVE
Pat jewelry dry with a towel or paper towel. Voila, you're done!
Now you have sparkly and, most importantly, clean jewelry!
---
Follow us on Facebook, Instagram, YouTube, and Pinterest. Also, feel free to Contact us anytime to set up an appointment.